Rosso Corsa ad Auto e Moto d'Epoca, Fiera di Padova 27-30 ottobre 2011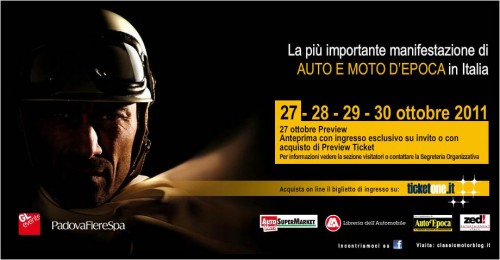 Rosso Corsa sarà presente ad Auto Moto d'Epoca a Padova.
Auto e Moto d'Epoca è il più importante Salone del settore in Italia, riconosciuto e apprezzato da un pubblico di più di 60.000 tra visitatori ed estimatori provenienti da tutta Europa, che qui cercano e trovano la più completa rassegna di vetture d'epoca e ricambi e dove possono immergersi nello scenario ideale dell'oggetto che ha rivoluzionato la vita moderna.
Avremo uno stand tutto nuovo e i nostri clienti, vecchi e nuovi,  Potranno toccare con mano i nostri prodotti: gli orologi, la pelletteria e le nuovissime e caldissime felpe.
Saremo al padiglione 7, corsia D, Stand 75.
10 Comments
Leave a Comment
You must be logged in to post a comment.