Rosso Corsa a Old Time Show, il 13 e 14 marzo a Forlì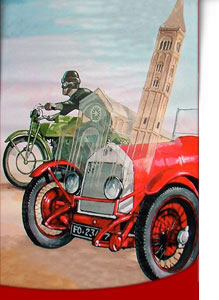 Rosso Corsa sarà presente a "Old Time Show", fiera di Forlì, il 13 e 14 marzo.
Old Time Show è un'occasione più unica che rara per vedere tutti insieme pezzi rarissimi che difficilmente si trovano esposti per il pubblico. La fiera è caratterizzata da uno spazio espositivo (ogni edizione prevede infatti un tema, egregiamente "svolto" dagli organizzatori), da una serie di eventi a tema motoristico e da un'area mostra scambio, dedicata a tutti gli appassionati in cerca di curiosità o di pezzi per completare il proprio gioiello d'epoca.
I temi dell'edizione 2011 saranno:
100 anni di Benelli. Tra i motori della Benelli, protagonisti della galleria tematica che sarà allestita quest'anno nei padiglioni di via Punta di Ferro a Forlì, troneggerà il Leoncino, con il suo motore 125 cc a 2t, il pezzo della produzione che rappresentò la "rinascita" dell'azienda dopo la II Guerra mondiale durante la quale furono depredati gli stabilimenti marchigiani. Il mezzo, nella versione sportiva soprannominata "bassotto", fu protagonista nel 1957 della terza tappa dell'ultimo Motogiro, grazie al campione pesarese Silvio Grassetti, che realizzò straordinarie prestazioni con quella stessa moto con cui aveva vinto, un anno prima, tra i cadetti a Modena. Dal suo motore a 2 tempi si trasse spunto per la realizzazione di un piccolo motocarro a 3 ruote e persino di un risciò, di ispirazione orientale, in vista di un'apertura verso i mercati dell'Est; questo prototipo rimase un lodevole tentativo di realizzazione che però non diede vita ad alcuna produzione in serie.
Un mondo di Ferrari, dal 1950 ad oggi. Tra le rosse che costituiranno la seconda mostra tematica "Un Mondo di Ferrari" arriveranno a Forlì da tutta Italia, oltre ad alcuni esemplari sport della serie Barchetta, anche alcuni pezzi da corsa. Come la F1 166F2 degli Anni Cinquanta, proveniente dal Museo Ferrari, un esemplare guidato da Schumacher ed uno portato al successo da Barrichello. Infine, la F1 del 1986, di Michele Alboreto che a metà degli Anni Ottanta fu della scuderia del Cavallino.
Il programma completo della manifestazione è reperibile a questo link.
Rosso Corsa sarà presente con un proprio stand, esponendo la collezione di orologi e di giacche replica.
26 Comments
Leave a Comment
You must be logged in to post a comment.