Rosso Corsa a Auto e Moto del passato, fiera di Ferrara, 28-29 gennaio 2012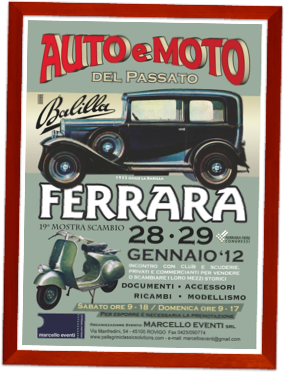 Nei giorni di Sabato 28 e Domenica 29 Gennaio 2012, si svolgerà presso Ferrara Fiere, la 19° edizione di "Auto e moto del passato". La fedeltà degli amanti del settore e la serietà proposta nei Loro confronti, hanno garantito all'appuntamento, una tra le prime posizioni delle manifestazioni più gradite in Italia. L'edizione del 2012 verrà dedicata alla Fiat Balilla nel suo ottantesimo compleanno.
Rosso Corsa sarà presente con un proprio stand, con alcune novità 2012.
8 Comments
Leave a Comment
You must be logged in to post a comment.